Exhibition Information
(Canceled due to COVID-19)

May 3, 2020 - July 13, 2020

Dorsky Gallery: Curatorial Programs
New York, NY



On the Uses of History
confronts our present naiveté of material culture's role in systems of power. Expounding upon theories by philosopher, Friedrich Nietzsche, as well as contributors to the anthology
Materiality
, the exhibition posits that the often overlooked component of our visual language - materiality - plays a critical part in the hierarchical order of our cultural history. Materiality, here referring to the matter and mediums employed by an artist, constitutes the haptic portion of our visual comprehension. Acknowledging material's significant function, the exhibiting artists reconstruct familiar items and scenes of the past to unpack our understandings of particular or continuous moments in time. In using new media to reimagine historical images now freighted with reminders of systemic injustice (e.g., Confederate monuments and noble European gowns), the works on view illustrate how materials influence the authority and meaning behind symbols of oppression.
As much of the exhibition embodies Friedrich Nietzsche's analysis on the uses of history, the title recalls his nineteenth-century essay, "On the Uses and Disadvantages of History for Life." Nietzsche proposes three modes through which people reactivate and engage with bygone moments: monumental, antiquarian, and critical. Practitioners of each mode respectively revere, preserve, or destroy aspects of history, to which Nietzsche ultimately offers criticisms on each modal employment.
These three modes correlate to the ways in which the exhibiting artists use historic content in their work. Their incorporation of historical visual language suggests in some respect an homage and practice to preserve the past, while their manipulation of the object's original media demonstrates a means to destroy or critique it. Yet, it is precisely through their simultaneous engagement with all three modes that the artists realize one of Nietzsche's key messages:
"[t]he best we can do is to confront our inherited and hereditary nature with our knowledge, and through a new, stern discipline combat our inborn heritage and inplant in ourselves a new habit, a new instinct, a second nature, so that our first nature withers away."

The exhibiting artists challenge mainstream historical interpretations - arguably our "hereditary nature" - and inplant a "new instinct," one which espouses a revisionist approach for understanding the past. Such approaches not only unveil and redress the problematic prioritization of certain cultural experiences in artistic representation, but also prompt further analysis of other components contributing to the structure and longevity of systems of power - in this case, material.
As noted by Monika Wagner and other authors in
Materiality
, the hierarchy that has influenced current cultural associations and the valuation of materials stems from the Western artistic doctrines of the Renaissance era. Conceptualized around the fourteenth-century, materials with structural integrity that personified quintessential Christian beliefs, like dignity and purity, possessed a higher value – materials such as bronze, granite, and marble. This ideology persisted well into the twentieth century, when neoclassical designs employing said materials continued to dominate other visual art styles. However, owing to both the shifts in mid-twentieth century aesthetic philosophies and the development of synthetic matter as a result of post-colonial resource exploitation and technological advances, modern artists experimented with new, more accessible, economical materials, subverting traditional materials championed by the art world's elite. In substituting their predecessors' traditional media for different materials, the subversive works in
On the Uses of History
accentuate material culture's legacy role in the representation of power.
Don't Take Any Wooden Nickels
(2019) by Sandy Williams IV, for example, enlarges a wooden Buffalo Nickel to the coin's rate of inflation in 1913. The combination of the coin's material, its historical lack of value, and its engraving of an unknown Native American man not only inspires a comparison to its thriving copper counterpart honoring Thomas Jefferson, but also unveils the links between materiality and socio-cultural hierarchies. Moreover, the title of the work and its underlying warning alludes to this problematic correlation between media, racial identity, and value.
Williams' miniature wax replicas of the Lincoln Memorial and two Virginian monuments, collectively titled
Wax Monuments
(2018), continues this theme of materiality's role in systems of power. Re-presenting the original bronze statues in smaller sizes and cheaper material,
Wax Monuments
undercuts the monuments' aura of grandeur and dominance. With the option to light the monuments as candles, Williams further challenges the "permanence" implied by a monument, and uses the malleability of wax to subvert their inherent message of power and enable dynamic approaches of de-/re-constructing legacies. With the wax monument of Robert E. Lee, for instance, the audience can ultimately celebrate the Lost Cause or destroy Confederate legacies, revealing the way in which materiality can amplify or dismantle oppressive symbolism.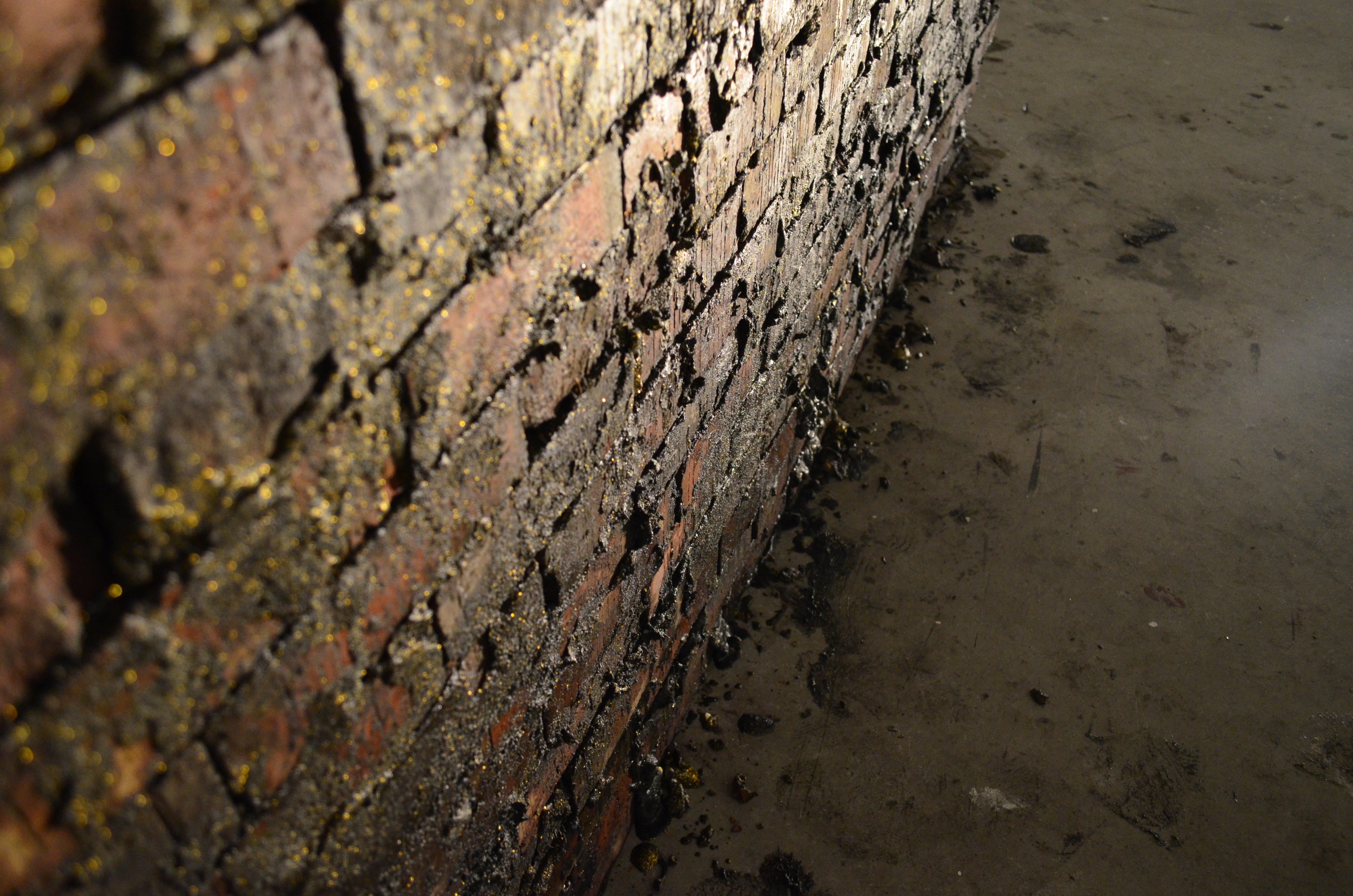 Of a similar nature, Luis Vasquez La Roche's
Bricks, Palm Oil, Gunpowder, and Lemons
(2020) considers Virginian history and its roots to African and African American enslaved labor. Originally a performance in which white men are individually called upon to construct a wall made from the title's materials, Vasquez La Roche's work reverses the power dynamics between the cultural groups who historically founded Virginia. The red clay bricks, specifically derived from the Commonwealth, not only allude to colonial Virginia's architecture and the white tenants it housed, but also to the people of color who laid the bricks down. Vasquez La Roche's metaphor continues via the binding mixture of palm oil, gunpowder, and lemons – materials used on newly arrived, instantly objectified, enslaved Africans to heal their wounds and prepare them for the auction block. Material serves here to credit the cultural narratives lost and overlooked in the recounting of our country's establishment.
In her series
Rewriting History
(2016), Fabiola Jean-Louis manipulates historical fashionwear to emphasize material culture's longstanding role in associations to status. Mimicking the garments of European noblewomen from the early modernist period, Jean-Louis recreates the era's opulently fabricated silk dresses with paper, a material with multiple, polarizing values from money to napkins. By then photographing women of color in the paper gowns within scenes where they were historically absent, Jean-Louis' photography functions two-fold: they interrogate the erasure of the non-white narrative in representations of power and reveal the layered affiliations to status embedded in fashion. Her co-optation of these scenes and substitution of silk for paper gowns confronts the arbitrary assignment of power to specific people and objects. Her reimagined gowns thus highlight the influence of materiality in cultural histories and hierarchies, and seek to blur its symbolic particularities.
Continuing this interrogation of clothing and their associations to power,
Eminent Domain for Unwilling Vessels
(2019) by Kate Kretz repurposes "Make America Great Again (MAGA)" hats into the style of the handmaid's bonnet from Margaret Atwood's The Handmaid's Tale. Although Kretz recalls the attire from a fictional literary and television series, the bonnet's uncanny allusion to historical, misogynistic fashion trends initiates a comparison between the past and our current political climate. Kretz refabricates and recontextualizes this contemporary textile in quasi-historical designs "to sound the alarm that history is repeating itself." This work along with
Hate Hat II, Dismantled: The Disease That Thought It Was The Cure I
(2019) calls attention to the power of material culture and lays bare the dangers lurking in its seemingly innocuous nature.
Following suit, Jaydan Moore similarly acknowledges the interpretive dynamism of seemingly benign, inanimate objects.
For Terrene
(2020), a work from his Platters series, Moore deconstructs and reassembles found, faux silver platters that mimic the popular sterling silver sets of the nineteenth-century. As individuals subliminally assign memories, ideologies, and culture to objects, pieces as simple as silver-platter tableware – even faux silver platters – can emit symbolic power despite the fact that their material make-up is spurious. This work demonstrates that an originally functional object of the past can be - and continue to be - a deceptive display of status due to its presumed material.
Departing from these ideas of self-representation via commodities, Sonya Clark identifies issues of collective representation in her work
Whitewashed
(2019). This work is a reimagination of the American flag through the use of the following Sherwin Williams paint colors: "Incredible White," "Storyteller," and "Natural Choice." By specifically utilizing white paints with problematic titles for a standard symbol of American unity and diversity, Clark confronts associations to race and power in the United States. Whereby the original fabric-based textile promotes multiple interpretations of "Americanness," Clark uses these paints that allude to racial difference to call out white supremacy and its long-held influence in America.
Dave Cole, by contrast, refabricates the American flag with recovered bullets and bullet fragments in
American Flag
(Bullets) (2020) to inspire dialogue on the United States' history of violence and its provision of Second Amendment rights. On one hand, each bullet denotes an individual act of violence, while its addition into a larger field of bullets blurs said act's significance - a metaphor to today's rampant weapon-based crime. On the other hand, however, the sheer number of used bullets in the work is an expression of the right to bear arms. Cole thereby uses this material to signify and obscure polarized perceptions in American politics, and to present a "grey zone" on what it means to be American.
In
Arab Americanesque
, Hannah Shaban produces a large-scale ceramic living room space reminiscent of that in her grandparents' home in Lebanon. Rather than subverting historical Western fashion like Jean-Louis, Shaban imitates French nineteenth century furniture pieces and wall decorations out of clay (a material extensively used and derived from ancient Arabic artistic practices) to comment on the forgotten cultural influences and Eastern exoticization in Western design.
Arab Americanesque
simultaneously highlights the exploitation of Middle Eastern traditions by the West and acknowledges the histories of those globally oppressed by Eurocentrism throughout history.
Through the use of media, works exhibited in
On the Uses of History
subvert their objective predecessors to engage with history in new ways. While some objects and images are more obvious in their relation to systems of power and injustice, others are now made apparent due to the artist's articulation of material. As opposed to reflecting upon history and art through a lens of optical visual analysis, these artists urge the acknowledgement and the interpretation of materiality and its connections to systems of power. They creatively repurpose the visual language of the past to ultimately blur monolithic projections of history and culture, emphasize historical complexities, and counteract exclusionary notions literally sewn into the fabric of our culture.
Website last updated 8/27/23.